| | |
| --- | --- |
| Posted on August 7, 2017 at 12:00 PM | |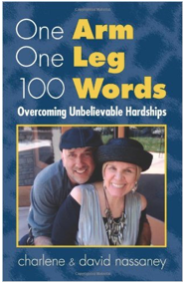 An excerpt from my book,
"One Arm One Leg 100 Words, Overcoming Unbelievable Hardships"
Denial  

The first stage is denial. Charlene thought she was normal. And yet no one could understand what she was saying, which only made her angry. She thought there was something wrong with us. She could actually hear the words that she wanted to say, but they never made it out of her mouth. When she opened her mouth to speak, only gibberish would come out. She just wouldn't believe that we couldn't understand her.  
She thought we were playing a joke on her. It was heart breaking for us to watch her inability to communicate or understand. The look of terror on her face said it all. We were all powerless to help her with her shock and denial, which took the form of a condescending and ridiculing tone toward us all. It was as if she was saying, "What is your problem? I am alright!"  
Anger  

The second stage is anger, which she took out on everyone who loved her. It was not pretty. She truly hurt those she loved. Like in that old Mills Brothers song, "You only hurt the one you love, the one you shouldn't hurt at all." I came very close to the end of my rope, mainly due to my experiencing more frustration than I could handle, and feeling zero appreciation. But God kept giving me a very special dose of Charlene grace to tolerate another day until it slowly and eventually got better.  
During those days, I wrote her a lot of letters, many of them were never given to her. They were for my benefit only. She just couldn't understand my point of view. God must have also given her some David grace, because many times I did not respond as lovingly as I should have to her anger. I was not accustomed to such treatment and I had to constantly remind myself not to take it personally.  
I kept telling myself that she was sick and could not be held accountable for many of her actions. It was even harder for the other loved ones in her life who were not quite as understanding of her condition as I was. Communication of any kind about anything on any deep or shallow level was impossible. It had to involve expressing deep emotions of how she was feeling, and she simply was not capable of communicating at that level.  
It just wasn't a fair fight. I would always win the discussions (or arguments) because she couldn't argue back with words the way I could. She just had a vocabulary of very frustrating screams. And scream she did. Emotional outbursts lasting anywhere between 15 minutes to one hour of bone-tingling shrieks that did not stop except to take the next breath to continue her screaming again.  
As terrifying as it was, she was communicating the only way she knew how. By opening up her mouth and letting the words come out. (In this case, it was a vocabulary of one scream). Imagine, if you can, trying to calm someone down who would not stop screaming at the top of her lungs. I tried holding her, rubbing her back, talking calmly to her, but nothing helped her to calm down.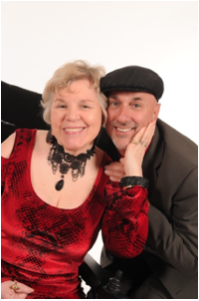 By Guest Blogger: Dave Nassaney
Dave Nassaney, Author, Speaker, Life-Coach, and Host of Dave, The Caregiver's Caregiver Radio Show, a show for caregivers who are burned out yet his most important role is Caregiver to his lovely wife, Charlene, for over 21 years.
His website has been developed to help caregivers overcome obstacles, adversity, and burnout, as well as just having a place to rest, relax and recharge their batteries. Please consider taking a coffee break now, and allow this site to encourage you in your difficult journey.  

Dave, The Caregivers Caregiver

Categories: Personal Stories from Caregivers, Caregiver Burnout