Caregiver Fallout - Looking Back
by Mellissa Price Williams
"It's so hard to move on, still loving what's gone." Peter Gabriel, I Grieve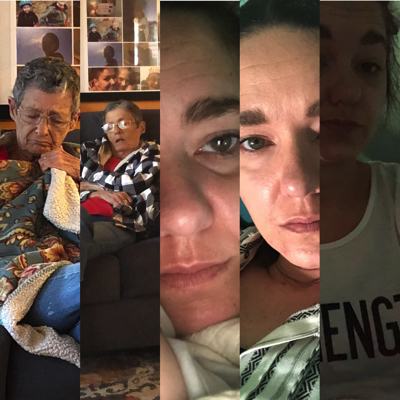 I stopped talking about mom publicly in June of 2018. The shame was too great, because I had a secret not many people knew. Due to rapid, dangerous changes in her behavior, mom was placed in a facility. In August, again due to behavior issues worsening, caused by the speed at which her Alzheimers and Vascular dementia was accelerating, she was moved to a memory care unit. In September 2018, our community was ravaged by Hurricane Florence. Then, a month later, on October 14th, mom died. Looking back, its been a hell of a year. This is my story of survival. Depression, PTSD, isolation, this will all be touched on, so if these are triggers for you, be warned.
Sunday, October 7th. That was the last time I saw my mom awake. It was a bad day. The last words she said to me were "Promise me you'll drop dead." Yes, I know it was the Alzheimers. No, it doesn't make it any easier to stomach. Even now. I spoke with her Hospice nurse Monday and told her I was gonna take a day off from my visiting schedule because of how the day had gone. She understood and agreed I needed the time. I ended up taking two days. I still regret that. Hindsight is always 20/20. 

Thursday, October 11th, I had just pulled into the driveway and put the car in park. My cell phone rings, its around 2:30pm. A restricted number. Hospice for sure. "Melissa, your mom is unresponsive. Her oxygen level is 84. Her breathing is unsteady (cheyne-stokes)." My body started to tremble as I asked the question I already knew the answer to. "Are you saying... I mean is this the beginning? Do I need to come?" "If you want to be here with her, then yes." I felt my brain switch to auto-pilot. I called my husband and told him to come home NOW. He was there within 5 minutes, and I was on the road within 10. I called my sister. I called my dad. I touched based with some friends. 

When I pulled into the parking lot of the facility, I sprinted to the front door. I didn't even have to be buzzed in, they were waiting for me. All of them. In the lobby. Even the director. I stopped dead in my tracks; they're faces said everything. I started to cry. Once I pulled it together, the kindest woman walked me back to moms room, and held my hand as I took in everything the nurse from Hospice had to tell me. Mom was officially placed on comfort care, and I was given instructions on what to look for so I knew when to use the morphine, when to use the Ativan. The facility offered me a cot, but I chose a cozy chair instead so that I wouldn't fall into a deep sleep.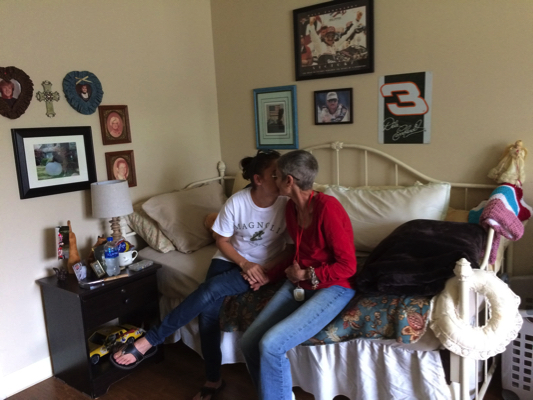 Most of the time I was there was a blur. I only left her side a handful of times. Quick coffee runs in the morning, speaking with staff, and to sit in the sun with a dear friend who came and brought me food and conversation on Saturday. I did learn a lot about the dying process. No two deaths are created equal. I learned that even in her unconscious state, I could read moms facial expressions. I could tell when she was hurting, and would run down to the nurses station, "Terms of Endearment" style, all hours of the day and night to get her pre-dosed morphine. I learned that my voice did more for her anxiety than the Ativan, so I starting reading her favorite book to her. It was surreal; I could even tell when my voice went from comforting to an annoyance, so I would stop and listen to music with my ear buds. And I don't know about you, but I've always heard there is a "smell" when someone is dying. I don't know if its unique to the person, but moms room smelled like sweet gardenias. And when she left the world, the smell went with her. A CNA told me she'd smelled it in the room the day before mom lost consciousness and spent an hour trying to find the source. Mom was her first patient to die. 

October 14th, 2018, around 3:30am I checked her oxygen level with my personal pulse/ox, and her oxygen level was 66. Around 4am, something stirred within me and a voice literally said, in my head, "Get in bed with her." So I did. I climbed over her, gently draped my arm on top of her, and talked to her. That conversation is private, but I did say I loved her, and was so proud to be her daughter. Sleep came quickly. What happened next, is when I realized I was in NO WAY prepared for her to die. 

I woke up to a CNA gently saying my name and rubbing my arm. I opened my eyes slowly, and noticed there were THREE CNA's in the room, and the light was on. Apparently around 7am they noticed mom was fading away and started doing 5-10 minute checks. As three sets of eyes stared down at me, I noticed my arm was no longer rising and falling with moms breath. I looked at them, pleading for them to say it because my rational side was all but gone. One of them checked again with a stethoscope and confirmed she was, indeed, gone. I hurled my body into the wall behind me, and then fell out of the bed and grabbed my chair. I took deep breaths as the tunnel vision set in rapidly. I sat on the floor, tears flowing, and as one of them left to call Hospice, another lovely woman asked if I wanted anything at all. My actual words: "CAN I PLEASE HAVE A GOOD CUP OF FUCKING COFFEE?," laughter escaping as hiccups though my tears. I felt like a lunatic. But you know what? They made me a whole pot. All of a sudden it hit me, I need to make calls. I called my sister. I had her call my husband and our dad. I called my moms brother. I called one friend. Hospice was there quickly, and had me leave as she cleaned moms body and dressed her in the special pajamas we'd picked for when this day came. The nurse was so kind, she even helped me pack moms things. When the funeral home arrived, the facility moved all the patients to the dining hall so we could have privacy. I watched every move. I promised mom I'd see this through to the very end, and I wasn't backing out on that one. I rested my hand on her leg as we walked her out back, watched as they drove away, blowing her a final kiss.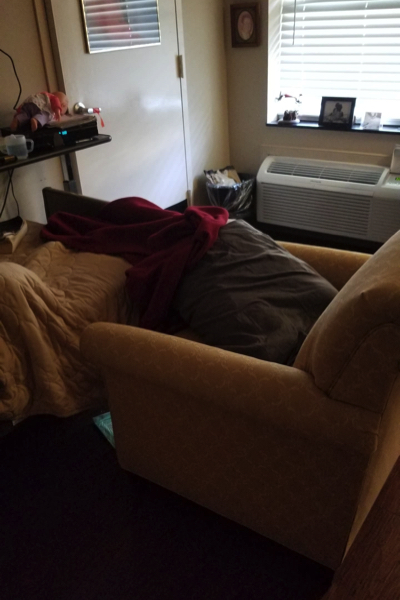 Everything After
I know my husband and kids came to get me. I know I scared my brother in law; poor guy, he reached out to hug me or pat my back and at that initial contact of someone I knew and trusted, I collapsed in the parking lot. When I got home, I know I called more family members. I know I made tribute post on social media. Mom and I shared a GP, so I let him know. I don't remember much else. I don't remember sleeping that first night, but I know I did. I remember sitting on the back porch where mom and I spent so much time together reading the rest of the book we didn't get to finish, often out loud. ​ I remember going to the funeral home. Signing papers, giving them the obituary. I don't really remember that first week. I do recall going with my sister to pick up moms ashes, and breaking down. It was so finite. The two urns sitting on the table, one for each of us, was all too real. I think I even buckled mine in on the way home. Mom didn't want a funeral, so we had a life celebration planned almost a month after she died. If I can interject with some advice, don't wait that long. People may forget why they're there, and that may upset you. Do whatever you're loved one wants, and I encourage you talk about it early enough, just don't wait too long to have it. And word to the wise, don't expect closure - I did and was sadly, sadly mistaken. What I didn't know, was that I was still in shock. And I was hiding from my grief. I was hiding from the world. Sure I said all the right things because I didn't want to make people uncomfortable or that I'd turned into this crazy person obsessed with her dead mother. In reality I just wanted to talk. To tell our story. To relive the funny parts. The God Winks. I wanted to keep mom alive in my heart and in truth, I'd never felt more isolated in my entire life. Being moms caregiver was all I had known for years. I became a shell of a human. Who the hell was the woman looking back at me in the mirror now? Mom wasn't just my mom. She was my everything. My life literally revolved around hers for years. She was by my side everyday, almost all day. It was like when Peter Pan lost his shadow. 

Things started getting worse instead of better. I was terrified of everything. I was still scared one of the kids would get sick and give it to mom. On the rare occasions I did leave I always felt like I was forgetting something. Loud noises or thuds made me come out of my skin; it triggered memories of all the times mom collapsed or fell. I had terrible nightmares. Insomnia became an issue, even with multiple different sleep aids. I heard moms voice. I heard her feet shuffling down the hallway. Yes, I was a mother and a wife. But I had no identity. Being moms "first mate" had consumed my life. That chapter was over and I was lost. I thought living again would come easy. Turns out I had all but forgotten how. I had a lot of idle time once mom passed. I rarely could bring myself to leave the house. Most of the time, it was me and my then 3 year old during the day. I didn ' t have to leave to go visit mom anymore. If I wanted to talk to her, all I had to do was sit with her urn, or sit on the back porch. It was where we had all our best conversations. I tried diving into volunteer work, but that was just another way to hide. I started writing a novel, but the passion to do so dried up as quick as it came. 

They say in first year after losing someone, the first six months your system is in shock, survival mode. I believe that now. Before the six month mark I often had to listen to sad music to shed the tears that so desperately wanted to escape. And when its Alzheimers Disease that you've been up against, the grief is substantially different; we, as caregivers and loved ones, have been dealing with "anticipatory grief" for years. I thought that would be like a coin in the bank towards my "actual" grief, but nope, I had to start all over. 

Today marks one year without momma. I've survived all the "firsts." Birthdays, holidays, and today, I will survive the first anniversary of losing her. I' m still far from​ okay. I still suffer from flashbacks of things that happened during the duration of her illness. I'm still plagued with nightmares and wake up a lot at night. I still cry, a lot. I STILL NEED PEOPLE TO BE UNDERSTAND ING OF WHAT I ' VE BEEN THROUGH. Don' t be afraid to ask questions! I still miss her every day. I have a voicemail I listen to all the time. I still go to therapy. I take medicine to help my anxiety. I'm still scared of everything. For a year, I've been a phoenix hiding in the ashes, slowly regenerating. Time takes time, but I have lost the doubt that I'll never rise from my hiding place. I've accepted I'll never be the same person. I know now that grief doesn't end, it just, changes. But for the first time since I blew her that final kiss, I feel like I am going to be okay, one day.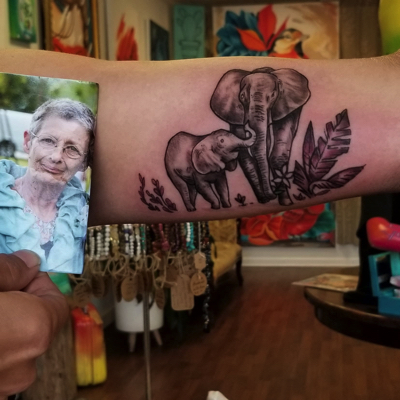 Guest Blogger: Melissa Price Williams
Categories: Personal Stories from Caregivers