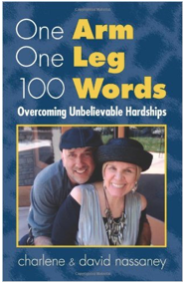 An excerpt from my book,
"One Arm One Leg 100 Words, Overcoming Unbelievable Hardships"  


Acceptance  

The final stage is acceptance, which finally came in the third year. People often think of the stages as lasting weeks or months. They forget that the stages are responses to feelings that can last for minutes or hours, as we flip in and out of one and then another.  
We do not enter and leave each individual stage in a linear fashion. We may feel one, then another and back again to the first one. At the time when Charlene finally reached the stage of acceptance for good, the seeds of faith that were sown into her heart finally sprouted and blossomed into a mighty oak tree.  
God allowed her to see the glass as half-full instead of half-empty. She started being positive about the future, even in the midst of negative circumstances. She would smile a lot. She would often point up to heaven and touch her heart as if to say, "God said it will be alright." She re-took control of her life, redefined who she is, and re-established her own self worth.  
This all seemed to come about as a result of her reading the Bible. With scriptures such as, "All things are possible to them that believe" (Phil. 4:13), she chose to believe God's promises over her negative circumstances and physical limitations. Today she is an amazingly self-confident, strong-willed, independent and powerful woman. Some would even say she is a cross between Martha Stewart and Wonder Woman.  
God has given us faith that she will speak again, in His time, and for His purpose. Even if we are wrong and that never happens, we are okay with that. We trust Him and know that He will do whatever is in our best interest. Again, attitude is everything. We have lost so much, but we are so thankful for all that we still have. So many others have lost so much more than us.  
We are truly blessed.  
One day we met a man who had aphasia very similar to Charlene's. For 10 years, he was completely non-verbal. Then all of a sudden, his brain just got it and he started speaking again. He told her, "never give up!" That meeting will be a constant reminder to her that there is always hope, and God is always in control.  
We still believe in miracles. God has performed so many for us already. Charlene has ministered to countless individuals in her present condition, more than if she were normal. I think of Joni Erickson Tada, who was paralyzed as a teenager in a diving accident. She now has a successful worldwide ministry for disabled people. Charlene is also blessing more people now than before her disability. Our lives are truly in God's hands and we hope He uses this book to bless even more people.  
Charlene after she Finally reached the "Acceptance" stage of the grief process.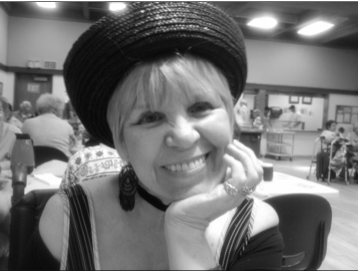 By Guest Blogger: Dave Nassaney  

Dave Nassaney, Author, Speaker, Life-Coach, and Host of Dave, The Caregiver's Caregiver Radio Show, a show for caregivers who are burned out yet his most important role is Caregiver to his lovely wife, Charlene, for over 21 years.  
His website has been developed to help caregivers overcome obstacles, adversity, and burnout, as well as just having a place to rest, relax and recharge their batteries. Please consider taking a coffee break now, and allow this site to encourage you in your difficult journey.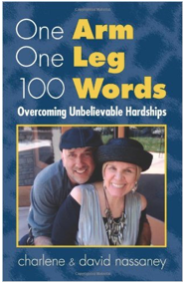 An excerpt from my book,
"One Arm One Leg 100 Words, Overcoming Unbelievable Hardships" 
Guilt (continued)  
Many thoughts crowded my head. I should have insisted that the paramedics take her to the larger medical center instead of the smaller private hospital. I should have also been on the internet every second doing research about strokes. I should have learned about the clot-busting drug, tPA, and other things that could have saved her brain from damage. I should have been in the doctor's face every time a decision was to be made. I should have been a doctor instead of a finance guy!  

It is normal to experience guilt after any tragedy. However, I forced myself to quickly get over it. I knew that condemning guilt did not come from God. In fact, I always had a great analogy about guilt that I would share with anyone who was struggling with it. I decided to take my own advice. Here is how the story goes:  

Guilt should be treated like a disposable diaper. A diaper is designed for one purpose, and one purpose only, to catch the poop from a baby. The guilt in my analogy is the poop. There are two types of guilt, undeserved guilt and deserved guilt. When you feel guilty, the first thing you need to do is ask yourself, "Is there a legitimate reason that I should feel this guilt?" If the answer is yes, then correct the wrong. Apologize to the person, fix what you broke, call who you should have called, turn yourself into the police, whatever it is, fix it! Then take the diaper that the guilt is now in and dispose of it, never to see it again.  

If the answer to the above question is no, make sure you can be honest, fair and objective about your answer. If you are not sure, then ask the opinion of a well-respected mentor. If the answer is still no, then there is no wrong to correct. You are innocent. The guilt is undeserved. No apology is necessary. There is nothing to fix, nothing broken, no one to call.  

Okay, you get the picture. Then take the same diaper that the same guilt is now in, and dispose of it. You never have to see it again. In either case, the guilt (diaper) is gone. (That's why they call it a disposable diaper, because once it is used, it is useless).  

In fact, if you don't dispose of it, it can cook that little baby's bottom, and become very, very painful. Guilt can also become very, very painful if not disposed of properly. Some people hang on to their guilt for months, for years, or forever! (And they get sick or their personality gets infected from this unresolved guilt.)  

Some people are very good at dispensing undeserved guilt to others, like mothers, for example. I can think of episodes of "Sanford & Son," where Redd Foxx's character, Fred Sanford would routinely hold his chest, look up into heaven, and say, "Elizabeth, I'm commin' to join ya' honey!" This comical skit worked every single time to get his son, Lamont, to do whatever Fred wanted him to do using undeserved guilt.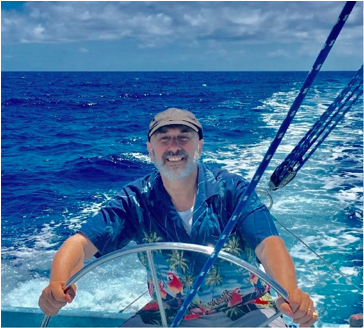 By Guest Blogger: Dave Nassaney  

Dave Nassaney, Author, Speaker, Life-Coach, and Host of Dave, The Caregiver's Caregiver Radio Show, a show for caregivers who are burned out yet his most important role is Caregiver to his lovely wife, Charlene, for over 21 years.  

His website has been developed to help caregivers overcome obstacles, adversity, and burnout, as well as just having a place to rest, relax and recharge their batteries. Please consider taking a coffee break now, and allow this site to encourage you in your difficult journey.  

Dave, The Caregivers Caregiver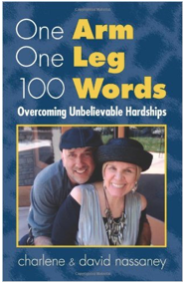 An excerpt from my book,
"One Arm One Leg 100 Words, Overcoming Unbelievable Hardships"  
At times, she didn't even want to look at me or touch me. If she didn't retreat into her room and slam the door, then I usually had to leave the room myself and leave her alone so she could let all of that pent-up frustration out of her system. I'm sure the neighbors thought I was beating her, it sounded that bad. It took a tremendous amount of energy for her to vent like that. It would take her days to recover fully from the outbursts that drained her body and her emotions. Sometimes I felt that it was my fault for letting the conversation get to such a point of frustration that allowed her to just snap like that. She couldn't just stop this outburst of screams once she got started. It had to run its course.  
In fact, it might have actually even been therapeutic for her to vent like that. I didn't really know if it was or not. I just knew that I had to try harder not to let our next conversation get out of hand again. In my own defense, however, the conversations that we were having were necessary ones. They usually involved changes that needed to be implemented. I would give her my reasons, but she typically didn't agree and couldn't articulate why. When I would sense that she was heading towards another emotional outburst, I would stop the conversation, and change the topic.  However, that did not work most of the time.  
Imagine trying to discuss something very important with someone and not being able to say a word. Then knowing by your silence that you were going to lose something very valuable. You felt you were losing it because you were not able to state your case or speak your mind. Then to be told that we were not going to discuss this anymore because, "you are getting upset and you can't be understood." If that isn't hell, then I don't know what is. They say (whoever they are), that the only thing that separates us from the animals is our ability to speak and communicate with each other. In a way, a part of her humanity was taken away, and she was very upset about it.  
One way that I attempted to survive those difficult days was to travel on some weekends to my cousin's and uncle's homes that were located in different states. I hadn't seen any of them in years, and it was a special treat for me to get away from my reality and share my feelings with safe people who were not a part of my situation back home. Charlene needed the break away from me also. She was naturally self-absorbed into her own problems. For her, no one else's problems were more important than her own. This is normal behavior for a stroke survivor.  
Back home when Charlene would attend her stroke support group, I would also attend my caregiver's support group. It was there I learned that I needed to take care of myself in order to take care of my wife. The caregivers would meet in one room and the survivors would meet in the another room. Both groups would complain about each other's group and would share their horror stories with anyone who would listen.  
I remember back in those days that Charlene and I would often get into angry shouting matches with each other as our patience would wear thin. I am so thankful that those days are long gone and we now finally like each other once again.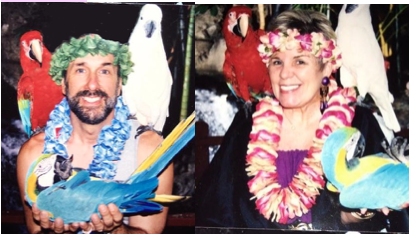 By Guest Blogger: Dave Nassaney
Dave Nassaney, Author, Speaker, Life-Coach, and Host of Dave, The Caregiver's Caregiver Radio Show, a show for caregivers who are burned out yet his most important role is Caregiver to his lovely wife, Charlene, for over 21 years.
His website has been developed to help caregivers overcome obstacles, adversity, and burnout, as well as just having a place to rest, relax and recharge their batteries. Please consider taking a coffee break now, and allow this site to encourage you in your difficult journey.
Dave, The Caregivers Caregiver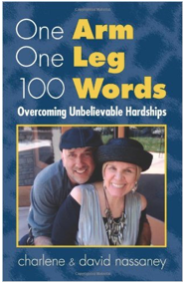 An excerpt from my book,
"One Arm One Leg 100 Words, Overcoming Unbelievable Hardships"
Denial  

The first stage is denial. Charlene thought she was normal. And yet no one could understand what she was saying, which only made her angry. She thought there was something wrong with us. She could actually hear the words that she wanted to say, but they never made it out of her mouth. When she opened her mouth to speak, only gibberish would come out. She just wouldn't believe that we couldn't understand her.  
She thought we were playing a joke on her. It was heart breaking for us to watch her inability to communicate or understand. The look of terror on her face said it all. We were all powerless to help her with her shock and denial, which took the form of a condescending and ridiculing tone toward us all. It was as if she was saying, "What is your problem? I am alright!"  
Anger  

The second stage is anger, which she took out on everyone who loved her. It was not pretty. She truly hurt those she loved. Like in that old Mills Brothers song, "You only hurt the one you love, the one you shouldn't hurt at all." I came very close to the end of my rope, mainly due to my experiencing more frustration than I could handle, and feeling zero appreciation. But God kept giving me a very special dose of Charlene grace to tolerate another day until it slowly and eventually got better.  
During those days, I wrote her a lot of letters, many of them were never given to her. They were for my benefit only. She just couldn't understand my point of view. God must have also given her some David grace, because many times I did not respond as lovingly as I should have to her anger. I was not accustomed to such treatment and I had to constantly remind myself not to take it personally.  
I kept telling myself that she was sick and could not be held accountable for many of her actions. It was even harder for the other loved ones in her life who were not quite as understanding of her condition as I was. Communication of any kind about anything on any deep or shallow level was impossible. It had to involve expressing deep emotions of how she was feeling, and she simply was not capable of communicating at that level.  
It just wasn't a fair fight. I would always win the discussions (or arguments) because she couldn't argue back with words the way I could. She just had a vocabulary of very frustrating screams. And scream she did. Emotional outbursts lasting anywhere between 15 minutes to one hour of bone-tingling shrieks that did not stop except to take the next breath to continue her screaming again.  
As terrifying as it was, she was communicating the only way she knew how. By opening up her mouth and letting the words come out. (In this case, it was a vocabulary of one scream). Imagine, if you can, trying to calm someone down who would not stop screaming at the top of her lungs. I tried holding her, rubbing her back, talking calmly to her, but nothing helped her to calm down.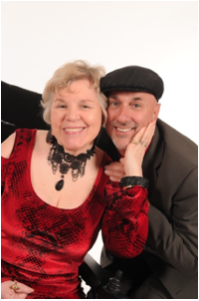 By Guest Blogger: Dave Nassaney
Dave Nassaney, Author, Speaker, Life-Coach, and Host of Dave, The Caregiver's Caregiver Radio Show, a show for caregivers who are burned out yet his most important role is Caregiver to his lovely wife, Charlene, for over 21 years.
His website has been developed to help caregivers overcome obstacles, adversity, and burnout, as well as just having a place to rest, relax and recharge their batteries. Please consider taking a coffee break now, and allow this site to encourage you in your difficult journey.  

Dave, The Caregivers Caregiver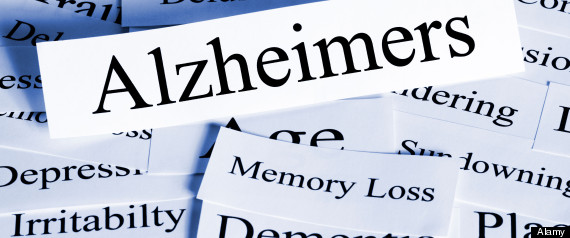 "Where'd you go? I miss you so.
Seems like it's been forever, That you've been gone." -Fort Minor  


I have come to hate the sound of running water. The faucet water in the sink has been known to run for hours these days. Mom loves to make ice. Our current fridge's ice machine has been broken for years. Ice used to never be a bother; fill the tray, take what you need, repeat as necessary. Now, ice is as high a priority on her list as world peace. She uses warm water to heat the trays, making it easier for her small, fragile hands to get the ice out and place it in her trusty Ziploc bag. Derek, my husband, needs the ice she says, when I ask about the necessity of doing this two times a day. She asks me for the third time already what time I have to be at the kids bus stop, and I prepare myself for another long day. She can't remember asking me two times already, even though its only 8:30am. She can't remember that this year I don't have to meet the bus every day because Wyatt is in first grade now and the same rules don't apply. She can't remember what makes her forget. She just can't remember.  
My head hurts while I write this, trying to think back over the last few years. How I stepped into the role of her caretaker. How I became a wife and mother during that same time. How I quit my job to take care of my family, and my mother. I look in the mirror some days and don't even recognize the woman looking back at me. Lack of sleep, due this or that, markings from pregnancy that chose not to fade away, eyebrows that haven't seen tweezers in far too long, and can we just talk about the wrinkles?  
The problem is, when giving care to others is basically your full-time job, it's hard to have the drive and desire to take care of yourself as well. It's so simple to put everyone else first because that is what you do. I schedule doctor appointments, administer medicines, play therapist. I have had to work on disassociating my roles in my current life and work towards compartmentalizing them all into neat little boxes, and storing them away in my mind until I need to put on the hat necessary for the situation. And that's just with my husband and children.  
As my moms caretaker, and as her health declines more and more, I have to put away the role of daughter so that I can take the onslaught of frustration she can dish out. She is angry that she is sick. That she can't remember things. That she can't do what she used to be able to do. Sometimes it's very passive aggressive. Sometimes its "I don't want to be your mom anymore." Sometimes its threats of running away from home, or locking herself in her room and staying in there until she dies. As much as her words hurt, and they are hard to get over and see past, but deep down I know what it is she is seeking from her behavior. That she is still wanted, still needed, still loved. That she still has reasons to get out of the bed. On the really hard days where I wonder if I can continue to do this, it's that knowledge that keeps me going, and helps me to take her words only so personally.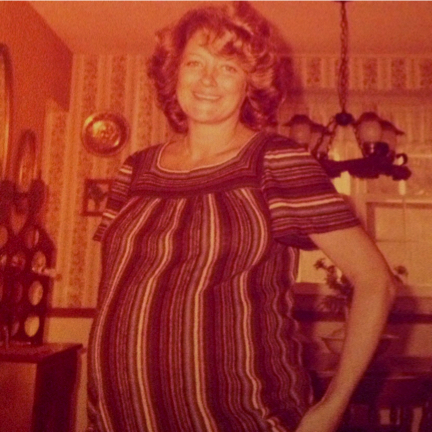 (pregnant with me, circa 1981)  
The day to day, that is what is the hardest to deal with. The countless repetitive questions, the running water, washing dishes that will need rewashing because she can't see the bits she misses, making ice, the shuffling of her slippers across the floor which is now like nails on a chalkboard because she can't take steps like she used to. It is missing my mom so badly that I get infuriated, even though we are sitting across the room from each other. Every time she has a decline, I mourn just a little more of who my mother was. I mourn, every day, and it is exhausting.  
She used to be fire. She is petite but was always stronger than she looked, and never asked for help. She was stubborn and found a way to get what she wanted accomplished and it didn't matter what it took from her to get it done; she just got stuff done. She could fight with anyone, and would... I'm telling you, she was fire, a fire that could not be snuffed out. I was both fearful of her and compelled by her all at once. To see her now, frail, weak, her mind riddled with dementia, there are days it's hard to watch her try to do a simple task and not cry or close my eyes in fear she will accidentally harm herself - the stubborn part of her mind is still working just fine.  
Don't get me wrong, I am grateful for the opportunity to give back to the woman who may be one of the only people in my life who has never walked away from me; though God knows, I've given her reason over the years. But so many days, I am ANGRY. I want my mother back. I want her memory back. I want to be able to trust her with her grandson and not have to sadly remind her why she can't be left alone with him. Every day comes with a little bit of heartbreak, and I have to find ways to cope.  
It's amazing what it can do to your psyche, to be the end all and be all to someone else, especially when that person is a parent. I got to the point where I was too depressed to do anything, too fearful to stand up to her, to paranoid about what may happen if I leave the house and take my son to the park. In March of last year, we almost lost her. Thinking back, that was when my decline began. I completely gave up doing anything to take care of myself. On the outside, I pretended I was fine, when inside I was a complete mess. My poor, loving, amazing husband saw me through some really rough patches. It was Christmas day, when I ended up in the ER with symptoms of a stroke (it turned out to be a stress migraine which I'd never experienced), that I decided changes needed to me made. By that time, I had had a constant lump in my throat for weeks which would keep me up at night as I was sure it was cancer and I had no idea how the family would continue without me. And that I wasn't ready to leave them. Finally, in the end of January, I sought help from my doctor. With a combination of medication, and therapy starting up soon, I am feeling back to normal. The lump in my throat is gone. My dearest friend told me the other day when she saw me that I'd made a complete 180 in the best way possible. I know I still have a long way to go, to deal with my anger, my grief, my fear, but I feel like I am on the road to redemption. I am working on coping mechanisms; for me, on the hard days, I look at mom as a guest in my home. It eases the frustration and makes me more hospitable when I have to fix her remote for the 10th time, or explain that it's her cataracts causing her vision issues, not her glasses. And that may sound callous, but hey, in situations like this, you do what you do to get through the day.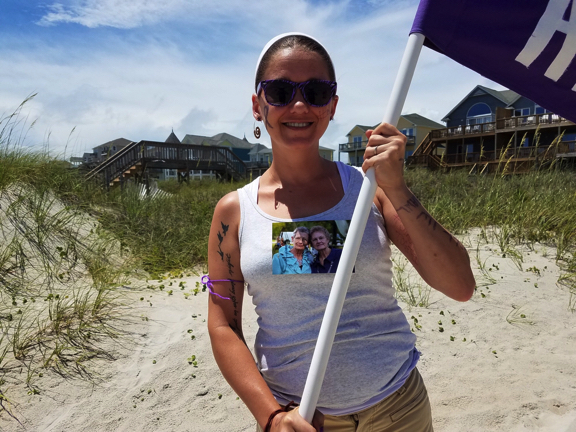 To all of those out there either suffering from illness, or to the caretakers, I see you. And I love you. And I get you. And I understand all of the emotions and anger and days where you're just so pissed you can't even see straight. When an ounce of "normal" is what you want, but know the odds are against you. All you can do is survive the day the best way you know how. Each day is a victory.
To quote my favorite YouTubers, The Frey Life, "Don't forget to laugh every day." It truly is the best medicine.  

By: Melissa, ACS Volunteer
"Together We Can Make A Difference" 
(Alzheimer's Caregiver Support - Facebook Page Moderator)

Caregiving is not only about taking care of someone's needs. It's CARING about someone. Right now, in over 20% of all households in the U.S., someone carries the role of "unpaid caregiver" for a relative, friend or neighbor. And while it can be richly rewarding, (for me, the reward included building a deeper closeness with my dad) there are SO many challenges. The stress involved with caregiving can easily and quickly lead to caregiver burnout.  

Caregiver stress can manifest in depression, anxiety, hypertension, or a host of other ways, up to and including, a comprised immune system. Yes, caring for a loved one is rewarding – but, we also have to remember to take care of ourselves as well. We need to take QUALITY care of ourselves – including time for our own professional and social life. When we forget our physical and emotional health, caregiver stress will snowball into caregiver burnout, as Dad liked to say, "quick fast and in a hurry".  

I found that the hardest thing to do was to say "yes" when someone offered to help. Sharing responsibility and being able to hand over duties was just as stressful and overwhelming to me at first as caregiving itself.  

I worried, "What if they didn't do it my way"? What if they put the wrong cup out for him to drink out of and he dropped it? What if the medicine was given at the wrong time? It's so hard to not micromanage when someone is helping you out, and to relax enough to take time for yourself.  

Something that helped me to step back was a simple question– in math/addition, how do you get to the number nine? I said, um 5+4. And my friend said, yes – or 6+3, or 2+7 or 8+1 or even 4+5....they all equal 9. That truly resonated with me. Simply put, my way is not the only way. Which is hard for me to wrap my head around most days. But I learned, if Dad spilled his cup, we cleaned it up. If we missed a dose of medicine, we gave it as soon as we remembered or we skipped that dose. It was not the end of the world. In fact, I have to tell you, that first day I could let go and have my husband get dad ready in the morning so I could lounge in bed wasprobably the best morning in my entire caregiving career. You can guarantee, Dad's socks didn't match – but it gave him a chance to bond a little more with my husband. Just as importantly, it gave me a chance to be borderline lazy for an hour without the "pressures of the world" on my shoulders.  

Leisure time is not a decadence that you have to avoid indulging in. Allowing someone to help, or allowing yourself to relax, shouldn't make you feel guilty. You owe it to yourself and to your loved ones to rest, relax and replenish yourself. But how?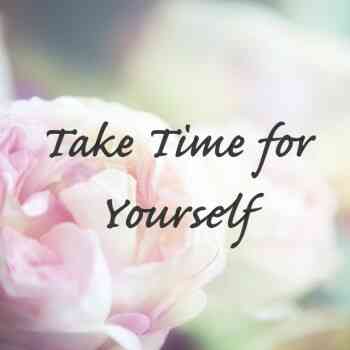 Every single day, set aside 30 minutes for you. It sounds impossible, I know. But, do it. Catch up on Facebook, take a nap, paint your nails, wash your car, check out what's new on Netflix – do what you need to do to recuperate a smidgen of calmness and relaxation. And I hear what you're thinking right now loud and clear. I really REALLY do – how in the world do I get 30 minutes to myself in a day?  

I found my secret to success: Don't feel guilty about it. Let mom or dad watch TV in their room for a little bit. You know what your loved one likes more than anything - maybe it's brushing the cat or dog, or playing with a baby doll, or counting money or sorting laundry or reading a book or maybe it's playing a musical instrument. Set the stage for them to do their activity so you can do yours. Or, wait for them to take a nap and instead of doing – just don't.  

And don't forget how rewarding it is to just get out of your house. It didn't matter where I went –just leaving my four walls helped increase both mine & dad's energy levels. Visit with friends or family – meet them at their house, at the movies, or in a restaurant – just don't stay at your house. And if your loved one is healthy enough, have them go with you! My dad's favorite part of the day was the trip to Home Depot. I have more nails in my house than I could ever hammer in anywhere – but if it took me buying a $1.99 pack of nails to give us a moment outside of our new caregiver/caregivee roll, and back into the comfortable Father/Daughter roll, well, it's worth all 683 packs I have in my basement.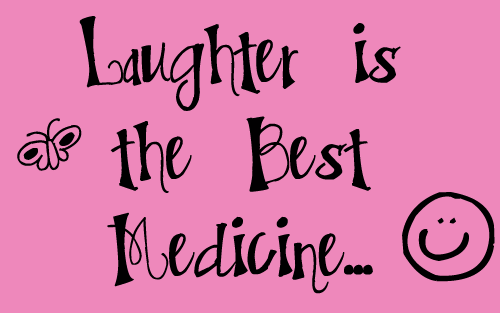 The most important thing is to laugh. It is so hard to find things to laugh about when you're in the trenches. So, why not watch a funny movie, have a glass of wine with an old friend, read a book – they're all great antidotes to stress and anxiety. And absolutely pull out the old photos. Look through albums together with your loved one. It's hilarious to see some of those old-old- OLD photos. Laughter is, after all, the best medicine, especially for your loved one.  

Caregiver burnout happens when you don't have the support you need. You (yes, I am absolutely talking to you right now) should NOT try to do everything by yourself. You HAVE to ask for help. It can be from a family member, a neighbor, a support group, and/or an agency. If you don't speak up and start the conversation about the challenges you're living with, no one will truly know or be able to help you. Don't lose yourself and the person you want to be because the stress is pulling you down. Speak up!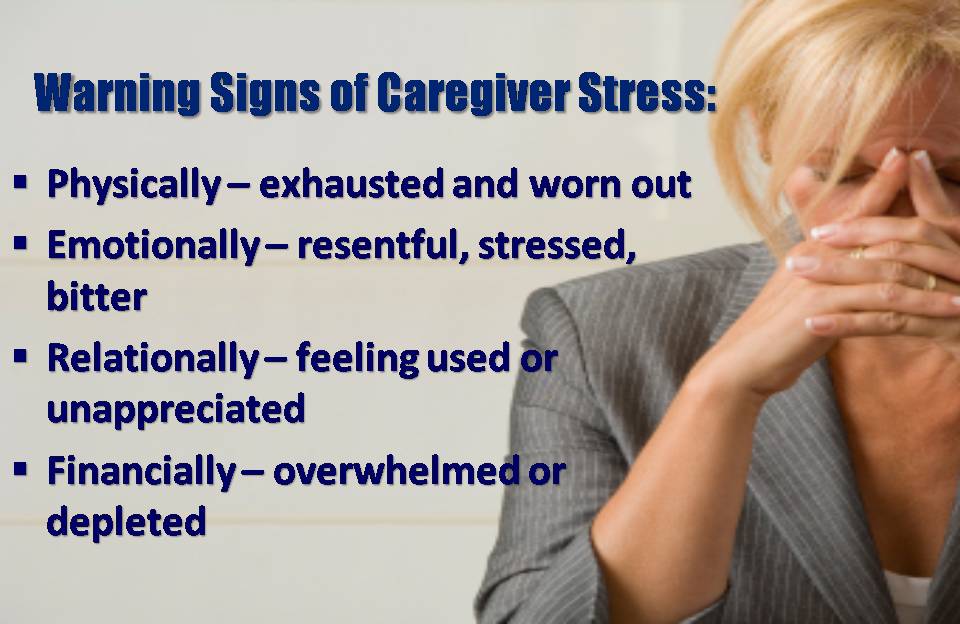 Some insurances, Veteran benefits, and healthcare consortiums can help by providing services such as housekeeping, companionship, medication management, live in services, and personal care services. If you don't know where to start, go to www.alz.org. The Alzheimer's Association is a non-profit health care organization that focuses on care, support, and research of Alzheimer's Disease. They are based out of Chicago, IL, but have chapters all over the world. If you are in the United States, program this number into your cell phone. 1 (800) 272-3900. That is the Alzheimer's Associations 24/7 Helpline. You are not alone. Stand up, speak up and don't get snowballed under.  

By: Anya, ACS Volunteer
"Together we can make a difference"
(Alzheimer's Caregiver Support - Facebook Page Moderator)