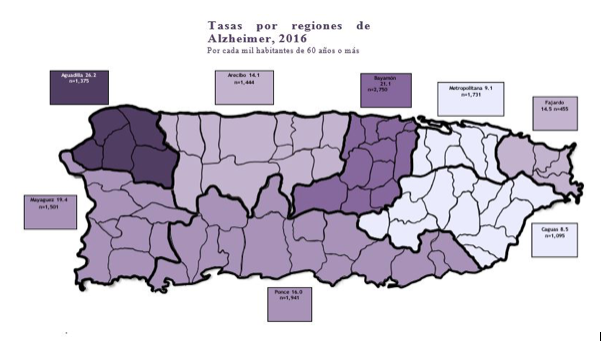 (Rates for Regions with Alzheimer's in Puerto Rico)

Have you ever wondered how health care is for Alzheimer's patients outside of your state, county or area?

Well I live in Puerto Rico with my mother and father for almost 10 years now. My mom has had Alzheimer's disease for about 12 years and she was diagnosed at 49 years old. My mother was diagnosed when we lived in Waterbury, CT where I think she had great health care but my mom decided to move to Puerto Rico to be close to her family so we went with her. She was very reluctant still as she was at early diagnosis of Alzheimer's. When we first arrived in Puerto Rico we verified a Neurologist. A good neurologist was about a 30 minute drive where my father had to take my mother to Ponce, Puerto Rico to be attended to. After that 30 minute drive, it would be another 6 hour to 7 hour wait to be attended to. Then, after proceeding to leave the doctor, it was onto the pharmacy and a wait of two hours to have her prescription filled out. They said her prescription had to go through prior authorization, another 30 minute trip to the doctor to have the MD put "previous failure to other meds", and a lack of diagnosis and a justification for that certain medication. After that visit to the MD, we had to go back to the pharmacy and wait a 24-72 hours to see if it would be approved or not. This was a process that had to be done about every 6 months when my mother started to decline in her mini-mental test. The neurologist said "Let's discontinue this medication. It isn't doing anything for her and there is no need for her to come and visit."

After that we proceeded to continue getting these medications by her primary care doctor where we had to continue our visits, between the doctor and the pharmacy and the consistent battle to have the medication processed for my mother. My mother was on Aricept and Namenda for more than 10 years but between her primary doctor and us we decided it was best to discontinue both medications because my mother started to show a decline.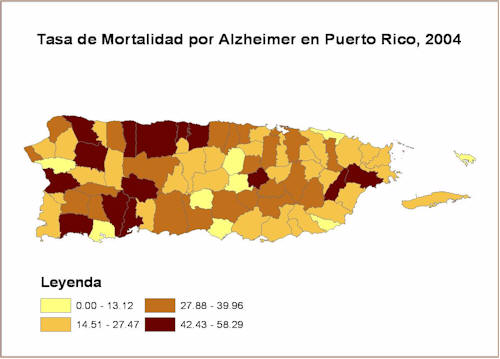 (Mortality rate of Alzheimer's in Puerto Rico)
We had to take her to the hospital for a urinary tract infection. We took her to two different hospitals. The first hospital is not even 10 minutes from my house and was a nightmare; we had to wait about 1 hour in the waiting room with my mom with her blood pressure at 110/46 so we decided to leave and go to another hospital that is about 45 minutes from my house where my sister in law works. My mother received wonderful care there and she was treated with compassion. After that we had to take my mom as a new patient to the hospital because of low blood pressure to the hospital close to my house because it was the ambulance that took her. At said hospital they​ only gave her one IV to help hydrate her and told me that I should adjust to her situation, that her condition is normal for Alzheimer's patients. After that whole ordeal we were advised to get hospice and we were denied by 3 hospices because of the following reasons: she doesn't have a breathing tube, she doesn't have a feeding tube, she doesn't "look" like she has Alzheimer's, and because we try to maintain her in her wheelchair and not she wasn't at the time bed-ridden. I have also tried to find help for my father and I to take care of my mother but there isn't really help for Alzheimer's patients. You have to wait for the government to give funding and that is mostly if you have friends that work in that certain office when you might receive help. 

I have reached out to the senators, legislators and mayors but they only tell me to call this number and leave a message and they only come every four years when they need your vote.

It's very frustrating. In my case I used to work a part time job and my father had also a part time job where we worked with our schedule. When it became too physically hard for me to take care of my mother, my father took over caring for my mother while I work a full time job to pay all the bills.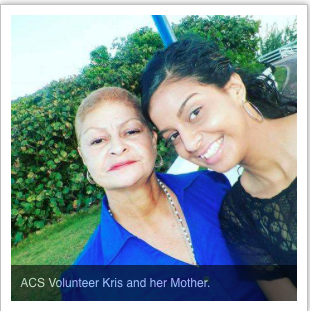 One thing that is a positive about this condition, me and my father are living through this with my mother and we have become a united front and I have learned to be patient. I greatly value my time with my parents, I know the future isn't a given so I show them how much I love them now.

By: Kris, ACS Volunteer
"Together we can make a difference"
(Alzheimer's Caregiver Support - Facebook Page Moderator)